Property virtual tours can make all the difference to how quickly and effectively you sell your property. John Passerini, VP of Interactive Marketing at Sotheby's International Realty told a recent conference audience that virtual reality is becoming an absolute necessity for real estate agents and he explained why:
Of course, a property virtual tour is not quite a 'magic bullet' but they do provide buyers with a much enhanced idea of what a property is truly like, compared with static images. This is especially important in locations where overseas buyers are the sales target as these people want to have a comprehensive idea of what a residence is like before committing to a personal visit and you are more likely to attract them to your property with a virtual tour.
Research suggests that around 90% of purchasers start their property search online and while most real estate agents have an online presence, media experts believe that many of them still haven't understood the fact that a multimedia presentation provides the 'wow factor' that leads to speedier sales.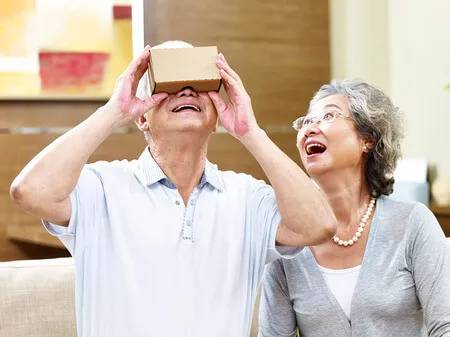 A study by the American National Association of Realtors showed that only 14% of realtors used virtual tours to promote their properties, whereas 45% of buyers told researchers that they found "virtual tours to be really useful," and that at least half of buyers specifically searched for houses for sale that had a virtual tour. What is more, an increased number of buyers are searching for virtual tours of homes for sale on Google first before looking at real estate websites.
Many sellers hire a professional virtual tour photographer to make a virtual tour of their property and for some this is the right choice. However, with today's technology and by using he Ricoh Theta 360° camera, property owners can make their own virtual tour for a fraction of the cost.
Create your own virtual tour
A virtual tour is a collection 360 degree rotating images that are interconnected giving the user the chance to virtually navigate between images and explore every angle of the tour. It really is simple to construct a tour with the my360 software. Paired with any 360º camera from as little as 150$, we guarantee that you won't need to hire a professional photographer to shoot the virtual tour for you; you'll be able to do it all yourself.
The Ricoh Theta 360° Camera
There are many cameras that can be used with the my360 virtual tour software, including the Insta360 or Samsung gear. But we think the easiest camera to use is the Ricoh Theta (SC2 or Z1) This camera, which has a fish-eye lens, makes it possible to capture one complete room at just one click of the button. Simply attach the camera to the tripod, set up the camera in the middle of your room and start shooting.
Together, the lenses take a perfect 180° image each and then automatically stitch the images together to create a seamless tour. The camera even comes in a range of stunning colours.
The Virtual Tour Software
The My360 virtual tour software has been developed exclusively for use by real estate agents and private owners who want to make affordable property virtual tours in a matter of minutes. Not only is it less expensive than hiring a professional, the virtual tour can be uploaded to the Internet without any need for complicated website coding.
In addition, if you concerned about not having the technical knowledge to shoot and upload your virtual tour, we have local agents on hand to help you out when needed. They will give you full training on how to use your equipment and how to upload your images. We guarantee that you won't have to wait around for technical support, or get frustrated because the system just doesn't seem to work.
Uploading Virtual Tour Images Is Easy
The 360° virtual tour software enables you to load your images directly from your smart phone to your personal account with My 360 Tours. Once they are uploaded in your account, you can then start adding the property details and preview the results immediately.
Then, you just need to click the button once in your account and you will receive your embed code, which allows you to display rotating, interactive 360º images on your website. The 360° image will include the property details and there is an option to is personalise it so that it matches your website design, or corporate look if you're a real estate agent.
Furthermore, you can use your 360° virtual tour on Facebook where you are likely to attract even more views, especially if you encourage friends to help you share the post.
Thanks to the Ricoh Theta 360° camera and our dedicated software, you can create a walk-through tour of your property. It's so easy to use that even a a child could do it! 
Now you have a sales tool at your disposal that will greatly enhance your range of marketing tools if you are a real estate agent. Creating a personal virtual tour is also an excellent sales tool for anyone with a private holiday rental, and our clients have reported that the number of enquiries and bookings has rapidly increased thanks to the addition of a virtual tour on their rental website.
If you are a private owner wishing to sell or rent a property and you don't have a website, there are at least fifteen other sites online where you can post your property virtual tour.
These include Rightmove Overseas, Idealista, Zoopla, Kyero, Funda, Trulia and 1000's more portals. But the most important of all, without a doubt, is My360REA.com, the only property portal with just virtual tours.
Becoming a member of My360 allows you to upload your property virtual tours to this portal at your hearts content, free of charge, always!
To start publishing virtual tours online all you have to do is subscribe with My360. And, don't forget, the support button is just 1 click away, so if you think it it getting a little too complicated, just speak to the friendly support staff at My360, they will guide you through it all!