We recently introduced the new floor plan feature to you, and many of you are already using it. but what if you don't have a floor plan of the property yet? How do you create a floor plan, and better yet… how do you make a floorplan for FREE!? 
In this tutorial we are going to show you how you can make your OWN floor plan for FREE so you can add it to your virtual tour!
Here's the quick guide:
Create your FREE account with floorplan.net
Create a new project
Add the rooms by dragging the images to your screen
Add some furniture & text
Click on "share"
Click on "download png"
Upload your PNG to My360
Then follow this tutorial on how to configure your floor plan into your virtual tour!
Here's the same tutorial but now with some more tips and images: 
1. Create your account with floorplan.net  (don't worry, you don't have to leave any payment details – it's FREE!)
2. Create a new project
3. Add your rooms by dragging the shapes to your workspace
4. now click on "settings" to configure your project setting such as units (cm/inch etc) and other measurements, logo, font and sizes
you will see this:
5. Click on Project to change the current project colours, thickness of walls etc.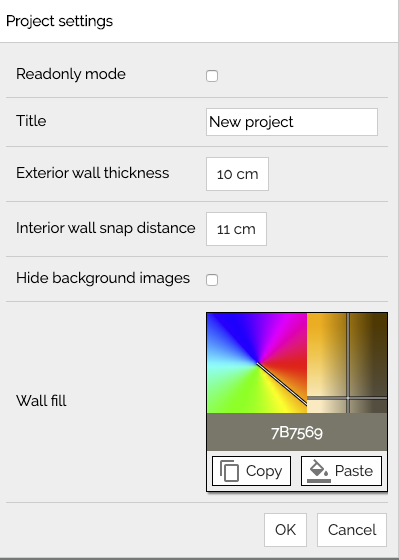 6. Now you can get to work and build your floor plan. Go ahead and add more walls, doors, windows and even furniture – you can choose these items from the dropdown on the top right. Just drag and drop them to your workspace.
7. Once you're done, your floor plan could look something like this:
8. Now go ahead and click on "share"
9. Choose to download in PNG:
10. Wait for the download to finish and then upload it to My360 to add it to your tour.
Now – there are a few small things I need you to be aware of:
This tool is free, but the PNG image output is very small. It WILL work within My360 and you can use it for your floor plan, but it would be better if you had a larger image. For this you need to upgrade, but you can do this from just 5€ per year, so I think it is really worth the money!
In my example, I didn't add any real measurements of the property. You can do this, but then it will take a lot longer to make the floor plan.
This was the first time I used the software and it took me around 20 minutes to create the final floor plan, so keep in mind it will add more time to your workflow.
Now that you learned how to make a floorplan for free, let's look at the tutorial on how to configure your floor plan into your virtual tour in this tutorial.