test My360 has recently introduced the floor plan feature for all our users to enjoy FREE of charge, so now you want to know how it works right? Here's the complete tutorial on how to add a floor plan to your virtual tour for free!
For the quick thinkers, here's the short version:
"Set North" on all your images (top right corner)
Click on "Add Floor Plan (top right corner)
Click on "Add New Level"
Upload your floor plan (don't have one? Click here to make one for FREE)
Give the floor plan a title
Select the floor plan in your library and click "add the level"
Drag the pointer over the hotspot to place in the right area
In the pop-up, select the destination image and set the default colors
Set your general floor plan settings (optional)
Click "Save & Exit"
Go to "settings" (of the tour editor)
Click the tab "floorplan"
Click to "enable floor plans" for the floorplan to show
Click "publish"
You're done!
Easy right? And it looks so good!!!
Now here's the same again but now with pictures in case that was a little too quick for you:
1. Set "north" on all your images
You do this so that the rotation arrow works. We will show you further down what that means.
2. Click on the icon to add a new floor plan:
If you don't have a floor plan yet, click here to find out how you can make your own floor plan for free. 
3. Click on "add new level"
You can add as many levels as you like, but in this tutorial we are adding just 1.
4. Label your floor plan and click to upload your floor plan.
A floor plan label could be: ground floor, terrace, 1st floor etc & make sure the floor plan is min. 1000px wide and a JPG or PNG file
5. Once uploaded, click the floor plan you wish to use and select "add the level"
6. Now drag & drop the the blue ball to the area where you want to add your hotspot.
Then select the correct destination image:
You can now also configure the hotspot colours and default settings and set the background color etc to personalise the floor plan to your own brand.
When you have finished click on "save & exit editor"
8. Now go to your Tour Settings to turn on the floor plan option: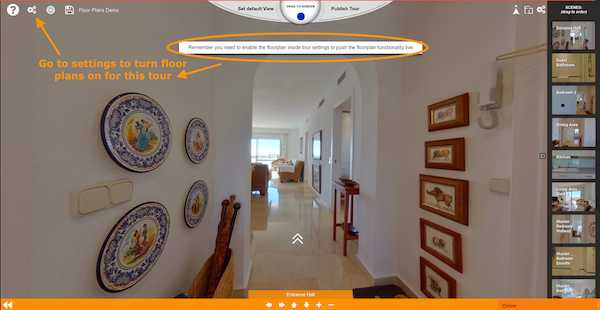 9. In the tab "floorplan" – "enable" the floorplan to make it show on the front end
10. Click "save" and "publish" your tour – and you're done!
Here's an example of what your tour should now look like:
You can see the new option on the left hand side for the floorplan:
When you click on it, you can see a small version of the floor plan.
Click on the "corner" icon to make it larger.
So now it looks like this:
Now do you see the greyed out area? This will move as you move through the property and shows you exactly where you are, so this is why it is important to "set north" as explained in step 1 – to ensure the floorplan view is correct.
If you don't "set north" this grey area will not show:
And that is all there is to it! Now you can add a floor plan to your virtual tour! Whoop! Look at you go! Now go forth and make more amazing virtual tours my friends! Don't forget to add a little pop-up hotspot or video to your tour too!
Let us know in the commends how you're getting on – better yet, share your fabulous tours with us here!