Mobile VR Headsets are a fantastic alternative to the full blown VR headsets like Oculus Quest that can easily set you back a cool $300 plus accessories. Compared to that, a simple Google Cardboard with a much smaller $10 price tag is a very enticing alternative! 
Of course, the 2 can not be compared like for like, but if you are looking for VR glasses for your virtual tours, a low cost VR glass option is really all you need! 
Below are a few options that we tried and tested and worked perfectly with our virtual tours. They are easy to use and all have a reasonable price tag. 
Furthermore, we list the pros and cons for each to make it easier for you to decide. 
Google Cardboard Mobile VR Headset
This Mobile VR Headset is by far the most cost effective, especially if you are thinking of buying headsets in bulk to send to your client as a promotional gift. 
The Google Cardboard Headsets are compatible with all smartphones with a 6 inch or higher screen. 
They are very easy to use, simply pop your phone in the box and enjoy the view! It also comes with a handy strap to keep the device firmly on your face while you look around. 
Its über low price is of course great, but remember you get what you pay for and the cardboard glasses are notorious for breaking and being uncomfortable to wear, but it does the job!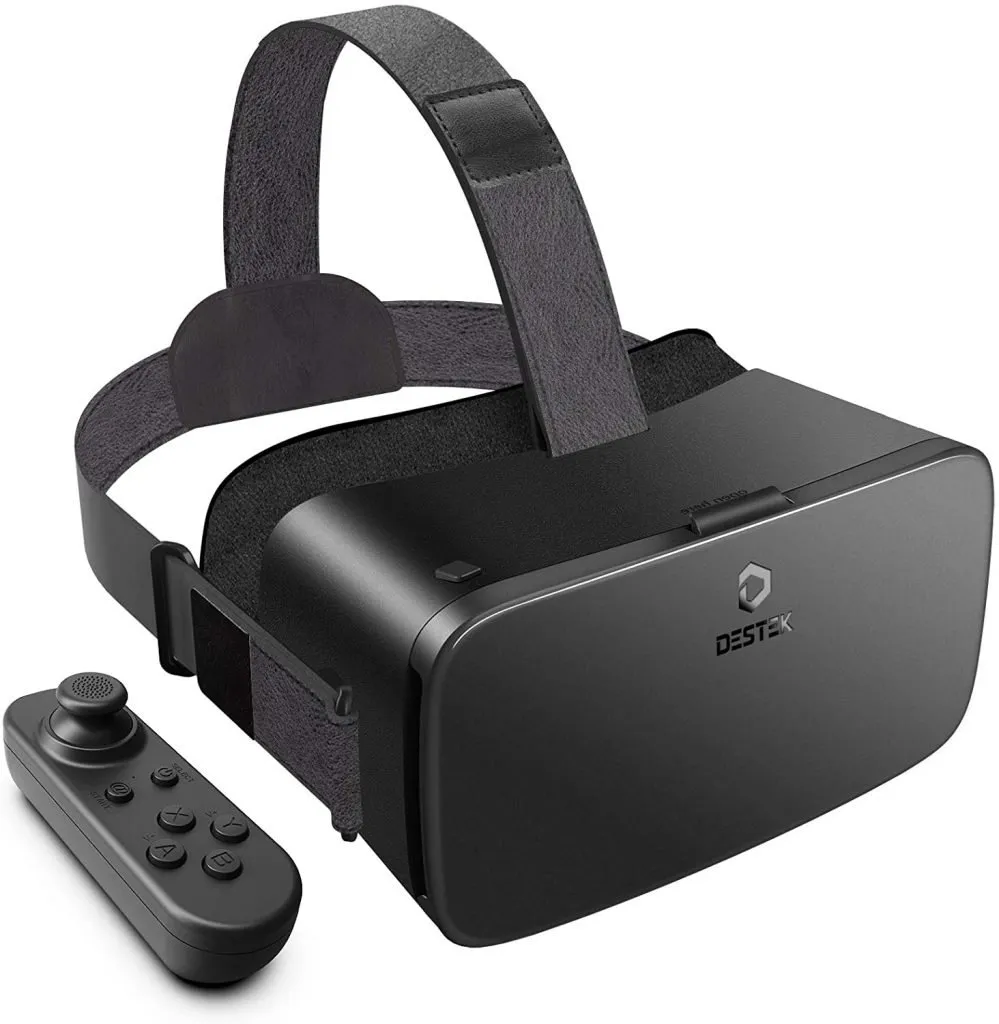 Destek VR Headset with bluetooth controller
Even though it is still considered a low cost headset, the Destek VR headset with bluetooth controller has a much superior look and feel. 
It comes with a remote bluetooth controller to however it is limited to use for play/pause, back and volume only when using it on iOS. More functionalities are available for Android users, but don't expect miracles, for such a low price, you can expect minimum functionalities. 
The headset features anti blue light lenses which helps the effects of strain on your eyes when using it for a longer time and it is compatible with almost any smartphone with a 4 inch or higher screen. 
Merge VR Headset (AR & VR)
Unfortunately this headset only sells in the USA, but it may be worth the shipping cost when you consider its features. 
The headset was originally designed for educational purposes. This of building sites and factories, so the design of this headset was kept robust and bulky – not something to impress your clients with… 
It also came in just 1 color when we purchased this headset. 
Not only can you use this headset for virtual reality (virtual tours) but it is also suitable for any augmented reality (games etc). 
This headset is a great low-cost option if you are looking for something a little more robust compared to the cardboard options. 
The headset is compatible with almost all phones with a 4 inch screen or higher and works with all devices. (iOS & Android included). 
It has a comfortable (if a little bulky) adjustable strap and plenty of padding to make prolonged use comfortable. 
The casing felt a little "cheap" so we suspect it is not a durable product, but for this price, you can't expect miracles!
The KHTAA VR headset works with any mobile device with a 5 inch or more screen. 
it has a sleek design with rounded corners which makes it look less bulky than its competitors. 
With it's HD lenses it gives a crystal clear image (depending on the phone image quality of course) and  the robust straps offer good quality for the price. 
It has a great 120º field of view for widescreen viewing, so you really get more viewing pleasure for less money. 
The only thing we didn't like about this headset was the straps were somewhat difficult to adjust, but that may have just been my colleagues big head! 
This top 5 Mobile VR headset list was created on the 3rd of March 2022. New versions of VR headsets are released on a daily basis as the popularity of virtual reality increases, so let us know in the comments below if you have found a VR headset that matches the above headsets or if you would like to share your experience with any of the above suggestions!